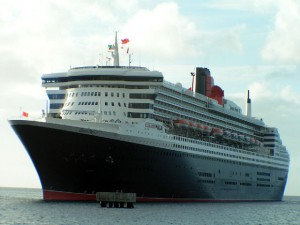 The Queen Mary 2 had her chance to shine as we sailed out of New York City on October 28, 2012… right as super storm Sandy was making her way into the harbor.  Despite the fact that we had 90 mph winds and 30-40 foot swells, the Queen Mary 2 took it all in stride, taking us across the North Atlantic to England right on time 7 days later.  There were moments where we thought to ourselves, "this is the roughest sailing we have EVER been on" and at the same time we were so thankful for the people that designed the QM2 to be able to handle such rough seas.
Moving on to the positives, the QM2 had so many great things to offer: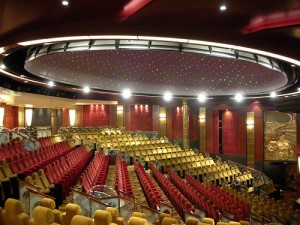 The only Planetarium at Sea.  The problem was that it was hard to stay awake when watching the presentation while reclined on a rocking ship.
Lecture Series – Cunard Insights.  This is something we have never really experienced before.  The majority of the cruises that we choose to go on have ports of call and family friendly activities going, so this was something new.  And surprisingly AWESOME.  We particularly liked Professor Thurber who talked about the American political system and how it works, specifically related to the 2012 Presidential Election.  Might sound boring, but it was surprisingly interesting and engaging.  There were 3 or 4 other speakers offering lectures on topics such as film history, the Concorde (pilot Tim Orchard) and Mark Butterworth from the Royal Astronomical Society.
 Largest Ballroom and Library at Sea.  I had afternoon tea in the ballroom a.k.a. the Queen's Room.  It was elegant and obviously very English traditional.  I even got asked to dance!  Should have taken some of the available ballroom dance lessons prior.  :)  The library was always busy and people were checking books out right and left.  There was a bookstore right next to it that had all kinds of items for purchase.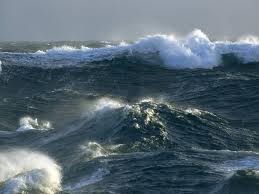 Other than the crazy weather causing really rough seas, we had a great time.  We particularly like the relaxation of no ports of call, we were completely on our own schedule.  There were so many activities that we were never left wanting for something to do.  We especially liked the movies at sea including Arbitrage, Men in Black 3 and Step Up Revolution 3D!
Many other bar/lounge venues to check out on board.  The Golden Lion Pub for fish and chips and live music, the Chart Room for nightly jazz, the Commodore Club for a beautiful view and a pre-dinner drink, a Champagne bar, Sir Samuel's for coffee, latte or hot cocoa made any way you like it and of course, the Casino.
The Queen Mary 2 offered us a lifetime experience and stories to tell.  Would I do it again, knowing what I know now?  Yes.  Would I sail through another hurricane if I had the choice?  Probably not.  🙂
Happy Sailing!
https://curiouscompass.com/wp-content/uploads/2016/02/Curious-Compass-Logo.png
0
0
Curious Compass
https://curiouscompass.com/wp-content/uploads/2016/02/Curious-Compass-Logo.png
Curious Compass
2012-11-15 15:23:31
2012-11-15 15:23:31
The Queen Mary 2 Rocks…….Literally