I will be attending my 3rd travel seminar in the last 7 months this April!  Loving everything that I am learning!  Best of all, it is so much fun to tour new ships and have lunch on board.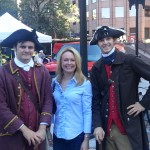 Boston – September 2013 -  My host agency, Dugan's Travels, sponsors a seminar twice a year.  I have been with Dugan's for over 5 years and this was the first one I was able to attend.  I am making it a priority to go more often than every 5 years now that I know what I was missing 🙂
Several of our suppliers made presentations.  My favorite though, of course, was Michelle Van Deusen, our BDM (Business Development Manager) for Royal Caribbean International.  She also led us on a tour aboard the Brilliance of the Seas.  Best inspection ever.  We timed it just right when the debarking passengers had cleared the ship and the new guests were yet to board.  Needless to say, we took advantage of that and quickly toured stem to stern, top to bottom, followed that by an amazing lunch with wine flowing and great converstation with my fellow travel consultants.   The Boston seminar was such great fun,  loved getting to know the faces and voices behind the names on our online forums.
Cruise World – November 2013 – Located in Ft. Lauderdale.  This was my first time attending Cruise World!  The conference itself was really pretty good, a large variety of classes available for those interested in technology, selling, river cruising, home port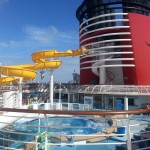 destinations and so on.  I was able to get on board 3 ships for a tour and lunch:  Norwegian Epic, Disney Magic and I actually sailed for one night on Royal Caribbean's Vision of the Seas.   I must say, that while I loved them all, I loved the Disney Magic even more!  I'm sure that's because I've never been on board a Disney ship and have looked forward to it for a long time!  Disney did not disappoint.  Gorgeous ship, with amazing kiddo adventures and great venues for adults, too.
Cruise3sixty – April 2014 – Also in Ft. Lauderdale, this will be my 3rd time at this conference.  I would have to say between the two dedicated cruise conferences, this is my favorite.  I'm looking forward to 4 days of all things cruising.   New this year is one full day dedicated to presentations from 25 cruise lines!!  I will have to pack a lunch, there isn't even a lunch break!  I am also very much looking forward to 4 ship tours:  MSC Divina, Celebrity Equinox, Norwegian Getaway and the Royal Princess.  Look for Facebook posts the first week of April when I am at this conference.  So excited!
Happy Sailing 🙂
https://curiouscompass.com/wp-content/uploads/2016/02/Curious-Compass-Logo.png
0
0
Curious Compass
https://curiouscompass.com/wp-content/uploads/2016/02/Curious-Compass-Logo.png
Curious Compass
2014-02-10 21:36:18
2014-02-10 21:36:18
Preparing for Another Travel Seminar